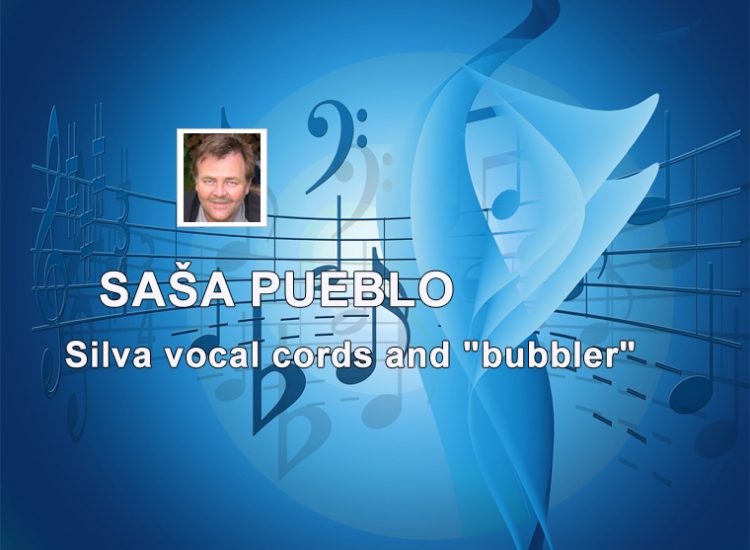 Silva Vocal Cords and "Bubbler"
Silva Vocal Cords and "Bubbler"
We pay attention to issues of Silva techniques which were invented by american Jose Silva. These are techniques based on the vibration of the nervous system itself. We have been focused on the development of these techniques successively for 15 years and during this period they have been fundamentally redesigned beyond recognition. So it goes in the life when the meditation person does some esoteric field which he patiently practices and improves.
We would started what silva exercises are not about. In the first place, they shouldn´t be about the fact that the person has damaged entire nervous and neural system and especially frayed nerve endings. It shouldn´t be about violent use of low current devices such as TENS device. Also usage of psychowalkman should be reasonable and prudent.
Esotericist who wants mean something in this area should know in detail what it is and where is located nervous system in the body. Human nervous system contains about 10 raised to the power of 10 neuronal and neural cells. In total there are about 50 kinds of neuronal and nervous cells: white neurons, gray neurons and long axiomatic neurons.
We have people that have a standard number of neurons and nerves. But we also can find remarkable personalities who have 40 times more neurons as ordinary people. You can find them the most often in financial sector. 40 times more neurons of these people does not mean that they also have 40 times more intelligence. It is different. More often are seen individuals who have 5 times more neurons than normal individuals. Personalities who have 10 times more spinal cord neurons are very often capable leadership personalities. For extraordinary intellect is also important the period of the brain growth several years after the birth of the individual and how was this individual influenced by his parents and surroundings.
Esotericist has to be able to concentrate into nerves in his body, particularly he has to get the permanent concentration of his consciousness in the back of the brain and strategically into medulla oblongata where activity of neural-nervous system of the human is managed. If you want to successfully concentrate into nerves you need to have years of training of early stages of the clinical death.In this state you should know to use what we call the "bubbles" of bioenergy in early stages of the clinical death. Without this ability you remain at the amateur level.
Esotericist wants to move his consciousness which is the most often in the frontal lobe into the medulla oblongata via the long term concentration into the medulla oblongata. After many years of repeated exercises in early stages of the clinical death you gain in neurons this ability of the permanent presence in the medulla and its surroundings. And from here is only small step to the cerebellum and to the rear visual center. For the meditation person is strategic the concentration to the cerebellum, medulla oblongata and into the rear visual center. The cerebellum contains 70% of all neurons in the human body, divination is done in the rear visual center and in the medulla oblongata is managed whole nervous system.
Anatomically is important to understand that from the medulla oblongata almost all nerves go into different parts of the brain. And also from the medulla oblongata goes the vagus nerve to the heart, lungs, liver, kidneys, spleen, and thin and thick intestine. Nerves go directly to the spinal cord from the lower end and from the spinal cord to muscles. And you know well operate in these areas and modify state of neurons and nervous system.
But lets go to the training of Silva techniques. The first is listening of sounds records of bats, dolphins and whales. These animals know to invoke vibrations with sound effects in their body. You listen these records until you don´t remember them and after these exercises you know to invoke these vibrations on your eardrums. And here starts classical silva training directly from auditory center (auditory cortex) in the brain, which is located in temporal lobes. Vibrations (which you remember by large number of repetitions) go from auditory center in the brain into right and left vocal cords. Training must be done many years and gradually everything what you say or what you remember on is transferred to vocal cords in the neck. Vibration spreads from vocal cords into nerves in the body. And Silva school in its new guise starts somewhere here.
We started here reminiscing vocal cords with diaphragms and their training. It is a training as opera singers have. First of all it is important pronounce letters so loudly and strongly that whole windpipe and blanks in the alveoli start to vibrate. Then is necessary to pronounce in one vocal cord one – three letters and at the same time also in the second vocal cord. When you say these letters by help of air in lungs they may not combine in the middle of lips, but they must flow out separately in the left and right corners of the mouth. What is the reason of these exercise? It is a technique that helps you listen well what you say and helps you well regulate your speech.
Further techniques of training resonant vocal cords are different. You push in the area of vocal cords with one hand and then with the other hand on both sides of the neck. You press and push away hand as quickly as you know and you say characters of alphabet by right vocal cord then by left vocal cord , for example character A. At this concert of letters A we should do some grimaces on the face and transfer them to areas of the vocal cords. It is also necessary to have some movement of the head to the side and up and down. Watch movements of opera singers and so on. Put one hand on one vocal cord in the neck area and second hand on second vocal cord. Both vocal cords are pushed to the windpipe so sounds vibrations on both vocal cords are transferred to the windpipe and from there to lungs on membranes in the alveoli. Vocal cords vibrate to the surface of the windpipe and lungs vibrate as mosses or bagpipes. Vocal cords are surrounded by many muscles which create vibrating sounds from vocal cords after a long lasting training.
In next exercise is necessary to pronounce letters and combination of vowels and consonants with deeper breathing and from the outside in the area of lungs the person slightly strikes his chest. Inhale and through vocal cords sounds of letters and banging slightly on the area of lung. Moderately fast smiting and when you inhale pronounce consonants and vowels separately. Often a combination of them. And we practice many years until we become good and strong in this exercise.
Then there are exercises where you exhale and at the same time you push hands on your stomach and you pronounce letters as an explosion of sound and air from the mouth. After slight hit on the stomach area the sound comes from the mouth into the space. It is a technique how to pronounce letters and their combinations as blast of air from the mouth into the surrounding.
Next quite important technique is to pronounce how characters sound and in case that trained person has closed mouth. It is so grumbling, hum, as if you had lower and upper lip glued together. You pronounce letters and their combinations and gradually words and whole sentences. You give the emphasis to understanding of what you say. You also use hands movement and gesticulation as the deaf person.
Similar exercises are done in eardrums. Firstly is necessary to listen many resonant and esoteric music and remember this music. Here we mean many years of active listening of spiritual and esoteric music and music records from all over the world. Next step is to recall this sounds from the brain back to eardrums in both ears. Don´t forget also listen technical sounds. It is appropriate long term listening of psychowalkman and resonant sounds. Important are also exercises of muscles around ears and the ability to control them. If you listen something then change the sound frequency directly on your eardrums. It is important to get used to it and gradually tune your psyche. Such exercise is accompanied by a certain fragility of the psyche. Therefore some therapies for the psyche stabilization back into normal reactions are necessary. Don´t forget of the mental health and normal reactions.
Next exercises are directed into the area of the eyesight and mainly into rear visual brain where the visual center is located. We also have the center of movement in parietal brain above ears and around ears is center for sounds and hearing. And here we have resonances and vibrations. For eyesight is necessary to use psychowalkman and vibrating lights. It is flashing glasses with lights. And this has to be practised many years and we save pictures of these exercises in the memory very well. And we take back these saved pictures of movements from the memory into rear visual brain as motion pictures. Later you learn to choose these pictures from memories immediatly so that each object and each color would flashing. You perceive moving pictures in your memory as flashing. Then learning process will be easier and quicker and you won´t need to repeat something many times until the brain remembers it. Pictures from memories in rear visual center could be adjusted according the amount of hypnotic techniques. Add system of mandalas and similar techniques for better learning and how do you remember things.
Next technique is to use TENS equipment which brings low electric current into the body. It is the principle of EEG equipment. With the help of this equipment you get stimuli through the skin, skin sensors and movement sensors into the skin to the middle of an epileptic brain. This equipment helps with bioenergy which is formed in muscles (inside of cells) where are organelles – mitochondrias. They are mini organelles where chemical energy is converted to bioenergy. This energy travels through the body and you know to capture it through eardrums and distinguish its voltage by the change in frequency of the tympanic membrane and temporal lobe and you know to specify coordinates where in the body is bioenergy from its own cells as well as from magmatic core of planet Earth. Of course, this needs long term training how to perceive tensions with the help of temporal and parietal brain, which contains neurons and those neurons are trained to show where is in the body little bioenergy, medium and lots of bioenergy. Later more detailed. Alternatively feelings from eardrums and temporal brain convert into images with the color linked to certain type of bioenergy.
Specific function is the connection of nasal mucosa to frontal lobe, where the center of thinking and logical reasoning is. This center, nasal mucosa and frontal lobe has to be organised for perception of the astral soul, quantized soul and memories disconnected few milimeters from neurons. Disconnection of memories needs training of early stages of the clinical death. Neurons in the body after the clinical death never wholly come back to their original state. In principle, today you do not need the smell and particularly in men is almost useless. So is it possible to retrain it to the perception of the human soul inside the body. Of course, if you haven´t trained or you not survived the clinical death, you can only perceive your memories in neurons memory. Memories are disconnected from neurons after the training of the clinical death and so this is the soul which is completely disconnected from dead neurons and after death remain partially active outside the body, but in a specific area 10 raised to the power of minus – 20 meters. Ordinary world around us is a dimension 10 raised to the power of minus -5 meters. This has to be understood and practiced.
Then there is a more specific training of resonances on the tongue. Do you remember of someone who has put smaller flashlight on the tongue? Actually, this is the training of how we are able to perceive chemicals and elements in our body through the tongue and its neurons. Bioenergy of the tongue is used for analysis of chemicals using the flow of electrons and other particles. When you direct this flow of energy into the area of hormone pituitary gland, for example, in the middle of the brain, so then in your imagination starts to appear each formula of hormonal substances. Here is a problem that we have to know chemical compounds of hormonal substances in the pituitary gland and we need to concentrate into areas where they occure in the middle of the head. And for this we have already practised early stages of the clinical death – minimum level of the clinical phantom body. And this are partially disconnected memories few milimeters from 90% neurons in the body of meditation person. Phantom body is achieved by believe that you have experienced the clinical death and it causes the brain's clinical condition.
In this article I´ve already described many processes which clearly fall under Silva system and use membranes of vocal cords. Next important system is linking centers for thinking. It is inner voice in frontal lobe or other parts of the brain and its connection to vocal cords. Mouth are closed and air flows through vocal cords as in the classical breathing. Into vocal cords is gradually established a neural connection between brain neurons and vocal cords and constant fine activity of nerves directs here from the brain and centers for thinking. Neurotransmission goes from these centers to meninges on the brain surface. Then from here fine nerve vibration goes into these areas of the brain that need it for frequency oscillation. As if you had a weak current and the magnetic field released in EEG. You learn to think but not on the basis of images and sounds, but directly on the basis of the frequency and oscillation. This is different way of thinking as it is common.
All these techniques which you train directly in your neurons create permanent ability in neurons for the frequency performance in all human senses and their connection to early stages of the clinical death. In early stage of the clinical death memories are slightly disconnected from neurons and create the quantized soul. After death the quantized soul full of memories and desires is disconnected from the dead body and there it has possibility to remain in the world 10 raised to the power of minus -20 meters. This microworld of vibrations is different than the world of our living organic matter, which is mainly in the size 10 raised to the power of minus – 5 and similar. All that you practice in Silva school and frequency school is transfered to the quantized soul. Qunatized soul may produce groups of particles in its certain part. You can imagine this as micro bubbles and all kinds of frequencies and vibrations are inserted into these bubbles. And these frequencies and vibrations are certain commands what quantized soul has to do and achieve. "Bubbler" created from quantized soul is used for penetration into depths of the cosmos and for oracular performance and collection of information.
HELLO
Sasa Pueblo Pleasant and instructive reading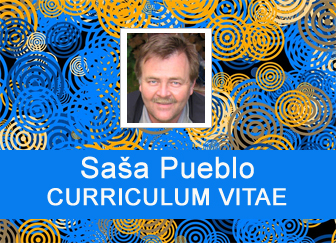 Read Curriculum VitaeClose Curriculum Vitae
I was born on 4th of January 1960 in Slovakia, Europe.
When I was 5 years old I fought for life several months and my grandmother who was herbalist and healer was helping me. She saved my life.
I did not attend the school very often because I still had problems with lungs.
But protestant pastor from neighborhood gave me basic education.
My grandmother loved going to the church but I better loved Indian figures.
My grandmother liked company of weirdos and homeless people. She loved to take care about them and I was there.
I have always loved to grow plants, picked up herbs and I was environmental activist.
I have decided to become polymath, educated in all natural, technical and spiritual sciences.  I still continue in this trend of highly and integrally educated personality up to this day.
Especially, I dedicate to all disciplines within medicine and I have different approaches to study them. I have decided to begin the path as healer and therapist.
I used to pick up herbs, mushrooms, leafs and yields from trees and bushes. I made homeopathic, herbal teas, different types of homemade herbal creams and tinctures.
Nowadays I practice distance healing without the presence of treated person.
I also practice special exercises called basic physiological exercises and it is training of special movements for persons in higher age. I manage the group of people in age over 60 who regularly train such exercises.
I care about issue of sleeping, hypnosis, autohypnosis and suggestions applied in distance Reiki without presence of the patient.
I have practiced active distance healing since 2013 and in this area I take care about 100-120 people who are under my long lasting care.
I also actively practice SRT system and I help related community of enthusiasts for SRT therapies.
I have created system of clairvoyance performances in the area of health, psychology and relationships. I execute such performances by clairvoyance techniques on distance without the person who is treated.  I use clairvoyance techniques to perform medical, psychological and psychiatric tests. I have connected such practices with medical laboratory values.
I am also interested in mysticism applied into religious systems. I have strong interest in everything what could be built during the life and what could be transformed into the world of dead memories. This is the issue of the Holy Sepulchre.
My specialty is interest in building artificial intelligence in robotics. I focus on building bio intelligence in human body and especially in the cerebellum, linked to the Kabbalah.
I am ready to exchange experience and knowledge. I communicate in English language.
Contact: sasapueblo@meditacia.sk. I will answer quickly and especially to every email.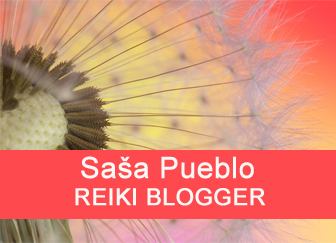 Read Reiki BloggerClose Reiki Blogger
Sasa Pueblo
REIKI BLOGGER
I have been working in spiritual sphere over 20 years. I have realized research in different areas of spirituality over whole world. I am objectively engaged to spirituality and esoterism. I went through spiritual world by clairvoyance techniques and many videos helped me to go through different forms of spiritual meditations from prehistory to nowadays forms of meditation. In year 2014 I decided to implement practical esoterism and spirituality on Reiki platform. I had feeling and logically emerged that this will be good thing. I wanted to publish my articles in English language. Circumstances helped me that one girl with excellent English knowledge came meditate to me. My desire was to get my articles translated by the person who actively meditate. And it has become small miracle and we have translation which is a great thing.
We gradually test individual Reiki systems and we make a record of them.
The record is processed, translated to English and posted on this site. I hope that our articles will bring you joy and new insights.
Here are my main home pages in Slovak language:
https://meditacia.sk/
https://forumzdravie.sk/onlinesasapueblo/
I encourage you to use: https://translate.google.com/m/translate for translation.
Following are English translations of my articles:
https://apoort.net/meditation/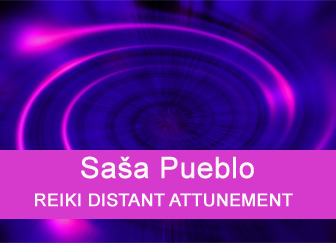 Read Reiki Distant AttunementClose Reiki Distant Attunement
Sasa Pueblo
REIKI DISTANT ATTUNEMENT
I also do Reiki attunement and consecration to all degrees. I do attunement to different kinds of Reiki. I specialize mainly in distant Reiki attunements and their gradation. Distant consecrations require testing and verification. By testing I examine the quality of distant attunement. It is good to repeat distant attunements several times and so achieve stronger Reiki stabilization.
I do Reiki attunement which is free of charge. It is good to already have basic Reiki consecration classically in the presence of consecrated person and the initiator. Then my specialized Reiki attunement is more effective.
As I have studied and trained the history of Reiki, I know how to return to original attunement of disappeared Tiandai Reiki school.
I can test you whether your Reiki attunement has been done correctly and I am able suitably adjust it for you.
You can email me via: sasapueblo@meditacia.sk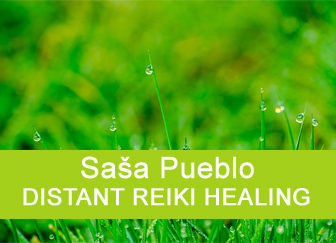 Read Distant Reiki HealingClose Distant Reiki Healing
Sasa Pueblo
DISTANT REIKI HEALING
To make full use of Reiki in my practice, I have adopted Reiki treatment to my healing services.
In my case, I go through distant Reiki treatment without the presence of the person being treated.
It is a demanding and little refined technique. And so there is a lot of space for testing and linking classic healing systems and Reiki distant healing. I have already reached respectable level. I provide free of charge distant treatment and feel free to contact me via email: sasapueblo@meditacia.sk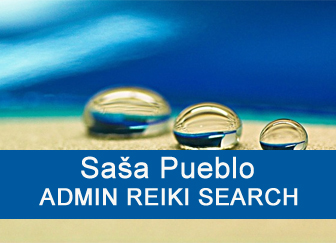 Read Admin Reiki SearchClose Admin Reiki Search
Sasa Pueblo
ADMIN REIKI SEARCH
My nickname is SASA PUEBLO and I am administrator of Reiki Systems of the World. I'm trying to have good overview of Reiki around the world. First of all, I collect Reiki search engines then individual types of Reiki over the world. It is good to have knowledge what happens in the world of Reiki who is involved and what people do in this area.
Web Pages with Reiki contents are collected for the reason that we examine enthusiasts who do Reiki, why they do Reiki and how they do Reiki. At the same time, we also examine unique characteristics of representatives of each Reiki school by clairvoyance techniques. This is research to improve Reiki overall.
We will not be personal, but we will publish clairvoyance research for the benefit of all Reiki enthusiasts.
We also will create collections of Reiki music videos, symbols and forms of healing for you. You have a lot to look forward to. We are here to support Reiki.
If you want to support us, to give us any idea and some web address, then please contact me on my mail.