Reiki Radiation

Sasa Pueblo continues in his Reiki research using his sensible abilities which are bulit on control of temporal lobe in the brain. He builds something like ultrasonicsonar of bat as well as infrasonic sonar of whales. Infrasound is also produced by the organ. This potential allows him to perceive objects which ordinary human senses are unable to perceive. Sasa Pueblo has a prophetic potential based on the flow of producing microparticles size of 10 raised to the power of minus 20 meters. This type of particles are produced by neurons at the level of microtubules. This is knowledge of quantum chemistry and biology. It is necessary to regulate them, encode and decode them. Sasa Pueblo developed this oracular technique due to enormous amount of prophetic operations during his career and in order not to destroy his vision by prophetic performances of various kinds. This is only the remark regarding the issue of extrasensory perception. Sasa Pueblo has developed in his brain so called bio device for perception what traditional human senses have no chance to perceive.
So Sasa Pueblo is able to perceive objects which Reiki masters Mikao Usui, Chujiro Hayashi, Hawayo Takata and other left over their burrial places. Such objects were created over the burrial place and they are based on interaction of human neurons and certain types of radioactivity. And such radioactivity and specific radiation starts in meteorites. So those objects appear in each individual who came to active contact with certain specific radiation for example meteorites, pitchblende, uranium and other radioactive substances included in periodic table of elements. We can talk about unique radiation connected with the atomic bomb in Hiroshima and Nagasaki. Individuals cleared by atomic bomb created in thousandth of a second posthumous object in the form of person shape. Only to point out that we are sorry for all victims of Second World War and especially in Japan.
Sasa Pueblo has unique ability because he survived repeatedly the clinical death during the childhood. He has also trained actively early stages of clinical death over 20 years of esoteric research with the help of scientific methods and indirect evidences. Sasa Pueblo is in principle mentally more death person then alive person. He is permanently at the edge of life and death and this took many years of practice. Thus, the state of Sasa Puebla is like a state of clinical death and he remains in this state permanently. One foot in the world of the living and the other foot in the world of the dead memories. Sasa Pueblo actively cooperates with many autistic and ingenious tuned people and communicates well with people under the name Indigo Children. Indigo is again something like creative genius.
Sasa Pueblo discoverd over the burrial place of Mikao Usui specific object in the size of a human palm closed to the spherical structure. And he found such objects within Reiki research over burrial places of dead Reiki persons. Research and facts went to the interaction of the human psyche and meteorites. Sasa Pueblo founds over the burrial place of Mikao Usui another object in the shape of the human body. He has found such objects over burrial places of Chernobyl victims. He has also found such objects over all burrial places of people who worked with radioactive material. It can be avenged based on indirect evidences that Mikao Usui was actively involved in the research and production uranium pitchblende on Japanese soil. Doctor Chujiro Hayashi. also contributed to this. At a time when both lived, material pitchblende and uranium make from it were already known. They most probably examined it for medical purposes. Interesting is that over graves of cosmonauts who spent in the space more then 3 months is also the human figure in the shape of large embryo. Thus astronauts who are exposed to cosmic radiation for long term produce during the life specific objects. It has its own logic of radiological activities in open cosmos.
Sasa Pueblo some time ago examined what has remained after death persons in the epicenter of the atomic bomb explosion in Hiroshima and Nagasaki. He was interested mainly in stories of individuals who were erased from this world by atomic radiation in thousandth of a second and after them remained only black spots. He returned mentally at a distance on those places and he found fog figures on places of these black spots. Thus thousandth of a second was enough to mix atomic explosion with neurons and the human psyche and such posthumous object was created. Sasa Pueblo is able to penetrate mentally through this object at the moment into our galaxy in the range of 100 km raised to the power of 400 km. Neolithic people from Göbekli Tepe knew mentally penetrate in all directions to the space 100 km raised to the power of 300 km. They moved within the space of microparticles 10 m raised to the power of minus 20 m in the macro and micro world. This is highly inaccurate number which is only indicative.
Sasa Pueblo is able to move throughout whole planet using natural consciousness. We can also talk about the collective consciousness in which the man does not distinguish and does not perceive differences between himself and another person, animal, rock or planet. He perceives them as identical twin or a siamese twin. Sasa Pueblo mentally merged with the rock. And such kind of consciousness is necessary for mentall penetration into the burrial place of Mikao Usui and perceive objects which this person left running.
Sasa Pueblo has founded practical esoterism and spiritual way and based it on individuals who worked in the past with meteoritic material and in nowdays with individuals who work and come to physical contact with pinchblende and other radioactive material. Sasa Pueblo is mentally able to find such individuals and their burrial places and copy their objects for himself but also other individuals. We call such objects "cold Reiki objects" which are not activated in the aura of the person by itself. It is necessary to connect them by brain neurons for their activation. Inside neurons should run pictures of the death person. When you download for example the picture of Mikao Usui from the imagination then the active object in the aura above the head becomes again cold spherical shape. You can ask why is good to have such objects in the aura? Isn´t enaugh to receive the object over the head of living Reiki master in its full activity? Certainly this is enough in ordinary Reiki practice. But this is not enough for professionals and they want to do Reiki exactly as main leaders mainly Mikao Usui. Don´t forget the fact that with those objects you come to unique information and practice of Mikao Usui without the help of third person. If you wouldn´t have such objects, you have to listen about Reiki history from historian. He often provides distorted information about life and Reiki of Mikao Usui.
"Of course, Sasa Pueblo does not built Reiki only from such cold objects. This is only Reiki research and what this research brings on scientific basis. Sasa Pueblo is at the same time Reiki healer who tests and builds distance Reiki healing. By this time he has tested and treated distance Reiki system already 3 years. Sasa Pueblo and his esoteric friends collect lists of Reiki healers over the whole world: Japan, America, England, Germany and other countries. They test by oracular techniques what kinds of Reiki exists and how to practice them. Example could be finding that part of Reiki masters who consecrate into Reiki 1., 2. and 3. and they can mentally activate lymphatic system of the human body and here they activate small thymus glands around lymphatic stream. These tiny objects the size of small beans are often blocked. Certain type of Reiki activates these objects and then they start to produce substances which slows aging. For example in the childhood this object in the child chest produces hormonal substance thymosin which blocks rapid maturation. When Reiki system stimulates the thymus over the body of an adult, thus activating these types of substances slow down aging. But this is not all. These small units which are in the human body about 50-100 pieces are able to produce unique energetic objects acting to cells and cells organela and even deeper at the level of proteins, aminoacids and elements. They may contain information breaking processes of aging. Sensible person perceives such energetic activities in children and their thymus in thoracic region. Next Reiki and mainly american lines of Reiki master Hawayo Takata directs to navel area and remains of the umbilical cord. This Reiki line activates such structure and the nervous system after the mother in the adult body. But what is more fantastic, this Reiki activates substitute mitochondria which produced mitochondria Eve after fertilization. And this is subsidiary mitochondrias Eve which control the activity within cells but they are also in bones. This Reiki is unique. Mikao Usui Reiki is grown within Japanese Reiki and this directs to activation of all prehistoric structures which describe an evolutionary medicine. Evolutionary medicine describes that in the body we have 200 prehistoric structures in the form of dormant cells. Here heading SRT system and the opening of one of the prehistoric structures in the thoracic part.
Sasa Pueblo studies and by oracular techniques examines long-lived individuals and in his healing practice realizes distance healing. Thus client who receives Reiki is not near to him. Distance Reiki compels neurons of living person to adopt the principles of long-lived individuals. Sasa Pueblo did not take over Reiki healing and Reiki system mindlessly and without the process of proving the efficiency and effectiveness of treatment. Sasa Pueblo is not an enthusiast of Reiki for more pleasant life and a joint congregation. Sasa Pueblo is not interested in Reiki which is practiced by ordinary public.
HELLO
Sasa Pueblo Pleasant and instructive reading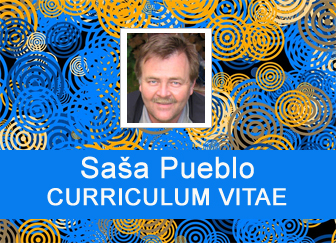 Read Curriculum VitaeClose Curriculum Vitae
I was born on 4th of January 1960 in Slovakia, Europe.
When I was 5 years old I fought for life several months and my grandmother who was herbalist and healer was helping me. She saved my life.
I did not attend the school very often because I still had problems with lungs.
But protestant pastor from neighborhood gave me basic education.
My grandmother loved going to the church but I better loved Indian figures.
My grandmother liked company of weirdos and homeless people. She loved to take care about them and I was there.
I have always loved to grow plants, picked up herbs and I was environmental activist.
I have decided to become polymath, educated in all natural, technical and spiritual sciences.  I still continue in this trend of highly and integrally educated personality up to this day.
Especially, I dedicate to all disciplines within medicine and I have different approaches to study them. I have decided to begin the path as healer and therapist.
I used to pick up herbs, mushrooms, leafs and yields from trees and bushes. I made homeopathic, herbal teas, different types of homemade herbal creams and tinctures.
Nowadays I practice distance healing without the presence of treated person.
I also practice special exercises called basic physiological exercises and it is training of special movements for persons in higher age. I manage the group of people in age over 60 who regularly train such exercises.
I care about issue of sleeping, hypnosis, autohypnosis and suggestions applied in distance Reiki without presence of the patient.
I have practiced active distance healing since 2013 and in this area I take care about 100-120 people who are under my long lasting care.
I also actively practice SRT system and I help related community of enthusiasts for SRT therapies.
I have created system of clairvoyance performances in the area of health, psychology and relationships. I execute such performances by clairvoyance techniques on distance without the person who is treated.  I use clairvoyance techniques to perform medical, psychological and psychiatric tests. I have connected such practices with medical laboratory values.
I am also interested in mysticism applied into religious systems. I have strong interest in everything what could be built during the life and what could be transformed into the world of dead memories. This is the issue of the Holy Sepulchre.
My specialty is interest in building artificial intelligence in robotics. I focus on building bio intelligence in human body and especially in the cerebellum, linked to the Kabbalah.
I am ready to exchange experience and knowledge. I communicate in English language.
Contact: sasapueblo@meditacia.sk. I will answer quickly and especially to every email.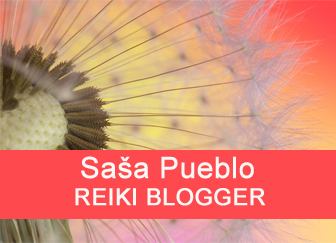 Read Reiki BloggerClose Reiki Blogger
Sasa Pueblo
REIKI BLOGGER
I have been working in spiritual sphere over 20 years. I have realized research in different areas of spirituality over whole world. I am objectively engaged to spirituality and esoterism. I went through spiritual world by clairvoyance techniques and many videos helped me to go through different forms of spiritual meditations from prehistory to nowadays forms of meditation. In year 2014 I decided to implement practical esoterism and spirituality on Reiki platform. I had feeling and logically emerged that this will be good thing. I wanted to publish my articles in English language. Circumstances helped me that one girl with excellent English knowledge came meditate to me. My desire was to get my articles translated by the person who actively meditate. And it has become small miracle and we have translation which is a great thing.
We gradually test individual Reiki systems and we make a record of them.
The record is processed, translated to English and posted on this site. I hope that our articles will bring you joy and new insights.
Here are my main home pages in Slovak language:
https://meditacia.sk/
https://forumzdravie.sk/onlinesasapueblo/
I encourage you to use: https://translate.google.com/m/translate for translation.
Following are English translations of my articles:
https://apoort.net/meditation/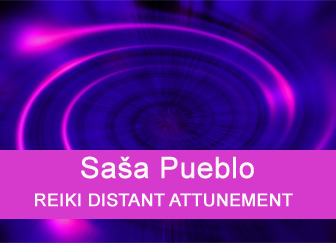 Read Reiki Distant AttunementClose Reiki Distant Attunement
Sasa Pueblo
REIKI DISTANT ATTUNEMENT
I also do Reiki attunement and consecration to all degrees. I do attunement to different kinds of Reiki. I specialize mainly in distant Reiki attunements and their gradation. Distant consecrations require testing and verification. By testing I examine the quality of distant attunement. It is good to repeat distant attunements several times and so achieve stronger Reiki stabilization.
I do Reiki attunement which is free of charge. It is good to already have basic Reiki consecration classically in the presence of consecrated person and the initiator. Then my specialized Reiki attunement is more effective.
As I have studied and trained the history of Reiki, I know how to return to original attunement of disappeared Tiandai Reiki school.
I can test you whether your Reiki attunement has been done correctly and I am able suitably adjust it for you.
You can email me via: sasapueblo@meditacia.sk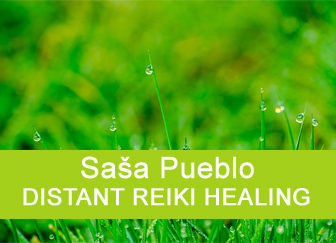 Read Distant Reiki HealingClose Distant Reiki Healing
Sasa Pueblo
DISTANT REIKI HEALING
To make full use of Reiki in my practice, I have adopted Reiki treatment to my healing services.
In my case, I go through distant Reiki treatment without the presence of the person being treated.
It is a demanding and little refined technique. And so there is a lot of space for testing and linking classic healing systems and Reiki distant healing. I have already reached respectable level. I provide free of charge distant treatment and feel free to contact me via email: sasapueblo@meditacia.sk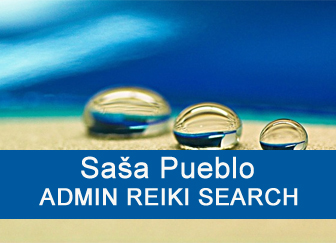 Read Admin Reiki SearchClose Admin Reiki Search
Sasa Pueblo
ADMIN REIKI SEARCH
My nickname is SASA PUEBLO and I am administrator of Reiki Systems of the World. I'm trying to have good overview of Reiki around the world. First of all, I collect Reiki search engines then individual types of Reiki over the world. It is good to have knowledge what happens in the world of Reiki who is involved and what people do in this area.
Web Pages with Reiki contents are collected for the reason that we examine enthusiasts who do Reiki, why they do Reiki and how they do Reiki. At the same time, we also examine unique characteristics of representatives of each Reiki school by clairvoyance techniques. This is research to improve Reiki overall.
We will not be personal, but we will publish clairvoyance research for the benefit of all Reiki enthusiasts.
We also will create collections of Reiki music videos, symbols and forms of healing for you. You have a lot to look forward to. We are here to support Reiki.
If you want to support us, to give us any idea and some web address, then please contact me on my mail.