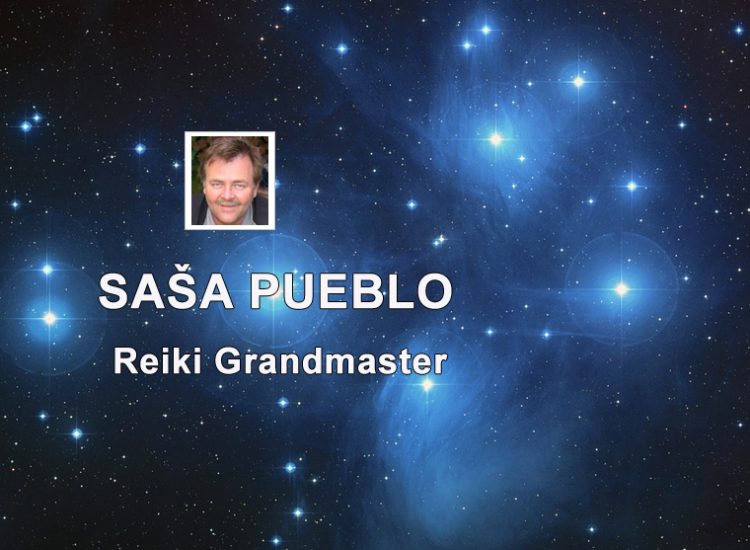 Reiki Grandmaster

Reiki is versatile system which could be used by anyone as the base of health and meditations. It allows transfer of information from Reiki master to pupil. It allows to become Reiki healer and also to work on the distance. It has been 3 years while Sasa Pueblo accepted Reiki practice as the base of his investigation and meditation on the field of esoteric for last 25 years. And he can say that this was successful step.
https://en.wikipedia.org/wiki/Reiki
WHAT ARE GANGLIA?
Ganglia are part of neuronal system in the human body, we have about 5 000 – 10 000, so nice amount. Ganglia are small clusters of neurons in the size of finger article or in the size of match header. They manage and give instructions for different organs activities and body parts. And here we uncover the research of Sasa Pueblo who opens the secret of Reiki. All Reiki consecrations direct here and from this point runs futher. Sasa Pueblo gives us an overview what is Reiki, how it acts, how to get deeper into Reiki. He has fulfilled the prominse which he gave to Ladislav Hodek who spread Reiki over Slovakia. It´s pitty that he is no longer among us.
https://en.wikipedia.org/wiki/Ganglion
Nerve Plexus
https://en.wikipedia.org/wiki/Nerve_plexus
Pseudo ganglion in certain muscles
https://en.wikipedia.org/wiki/Teres_minor_muscle
Peripheral nerves are ganglia system
https://en.wikipedia.org/wiki/Peripheral_nervous_system
Special ganglia
https://en.wikipedia.org/wiki/Cranial_nerve_ganglia
Eye ganglion
https://en.wikipedia.org/wiki/Ciliary_ganglion
Categories for ganglia
https://en.wikipedia.org/wiki/Category:Autonomic_ganglia_of_the_head_and_neck
WHAT IS CONSECRATION TO REIKI?
Under consecration we understand the consecration of physical person on the place or on the distance – concentrated fundamental energy flows in ganglia human body system and then person who gives consecration could increase performance in Reiki by further consecrations of consecrated person.
1.st Level of Reiki
This level is about opening ganglia over whole body by Reiki master unless he is able to do so. Reiki master could be able to activate ganglia when he has all or part of his ganglia 5 times stronger or bigger. Only few Reiki masters have open all ganglia. Rather we find such Reiki masters who have active only some ganglia. Then is better to receive Reiki consecration from more Reiki masters. Estimation of ganglia in the human body could be from 5 000 until 10 000. Sasa Pueblo does not belong to those who have active all ganglia in the body, but he has found unique way how to overcome this handicap. This stays his secret. You can consecrate only if you have all ganglia 5 times more active as others or you find a way to overcome this situation.
Two cases of Reiki persons who have 5 times more all ganglia.
http://www.extra-mir.ru/celiteli/2013/
http://www.deo-reiki.com/
Olga Nefedova Borisovna has 5 times more all ganglia in the body.
http://www.extra-mir.ru/celiteli/2013/
Videos Olga Nefedova
https://www.youtube.com/watch?v=-vgdgcHJUDQ&t=2s%20-
https://www.youtube.com/watch?v=sHUUCYqhkEQ&t=9s
https://www.youtube.com/watch?v=bki2_Faqxrw
https://www.youtube.com/watch?v=9HlbA7jRJMg
2nd Reiki level
Once all ganglia are activated in your body or only the part of ganglia in the body. It´s better to activate all ganglia in the body. In the second stage energetic disc in the size of euro coin appears around ganglia.
3rd Reiki level
In this level Reiki achieves that aura around ganglia is changed to shape character. This is about flowing energy from ganglia in certain shape but not as orb into the area.
4th Reiki level
After completing two degrees all ganglia have to be linked energetically into one unit. Energetic discs are connected to great unit. Such unit has the shape of your body. Ganglia in esotericism and mainly in chinese are connected and they are called meridians. Ganglia is called chakra in medicine or energetic point. As long as the energy around ganglia flowing in the form of signs then one sign appears for one consecrated person.
5th Reiki level
In this stage actions are in aura around the body. Here aura is continually renewable bioenergy from cells surface. We can be inspired by Kirlian photography of hands and body aura. Look up such pictures on the internet. All discs around ganglia are grouped into 4 big discs over the body surface starting from chin through the chest and under the navel. They rotate energetically and they are modified to 4 moving characters in certain shape. And so you are able to heal other person by own energies directly on the place or on the distance. But be careful, because you give your own bio resources. Such treatment of others could harm your health. The best option is to use own energy only for own treatment.
5/I. Reiki level
This level is about learning how to heal not by own energies but by energies from different biological sources as animals, trees and people. Reiki consecration generates such connections between consecrated persons within groups. Reiki people build up groups and connects own energies together. This is collective Reiki. Whole family could be connected and consecrated by Reiki. Such connection could be used to link people who provide Reiki voluntarily. Also such connection could be used to request people to contribute by own energy to heal and support others.
5/II. Reiki level
This Reiki level follows previous Reiki leve 5/I. and expands Reiki consecration in direction to healing practises. This is how to apply healing principles as acupuncture, acupressure, pendulum, automatic drawing, alchemy, hermetism and other in Reiki. Here belongs also the consecration of Hawayo Takata who started to practise treatments into navel area within Reiki healing. There we have many forms of healing procedures as philippine healing, Silva therapies, hypnosis, SRT therapies and others. Here Reiki consecration is given to healing persons as treatment. Sasa Pueblo heals on distance and remakes the system how to gain lovegevity through Reiki even if the person does not have it in his destiny.
5/III. Reiki level
This level of consecration is realized with the help of other persons who manage consecrations whether free of charge or for a fee. Sasa Pueblo is able to ensure vicariously any consecration from anybody. This is ability of sesible person Sasa Pueblo and his another ability to do astral projections by wandering mind as a shaman. Personally, Sasa Pueblo looks for various initiations throughout the world and also feels freshly consecrated persons. It is necessary to reach hundreds and thousands of initiations repeatedly. Here I just indicate how important is to get consecration for any price from any significant Reiki person. And such consecration could be done also from remians of Reiki person. Reiki disc remains in the tomb site. But how this happens, that is a secret.
Reiki Free
We collected for you worldwide web sites with provided Reiki initiation and distance healing. Try to make good use.
http://www.universityofreiki.com/workshops/free_workshops.asp
Every third Thursday – FREE Reiki healing
http://www.innerquesthypnosis.com
Reiki master offers FREE Reiki consecration for limited time
http://reiki-energy-healing.com/reiki-success-course-free.html
Interesting web page, they also provide free Reiki
http://www.reikiclasses.com/
Reiki, aromatherapy, acupressure, therapy tuners and tuners FREE courses
http://www.tuningforktherapy.com/custom2_1.html
Reiki, they offer free consecration to Usui Reiki, Ascension Reiki and Reiju Reiki once per month
http://www.ascensionreiki.com/Attunements.html
Free consecration to Usui Reiki
http://freereikiattunement.com/
Free Reiki animals
http://www.training-horses-naturally.com/reiki-attunement.html
Free kundalini Reiki
http://www.xtrememind.com/free-reiki-attunements-kundalini-reiki/
Qigong, the collection of free Reiki consecrations with the possibility of voluntary contribution
http://www.elementalreiki.com/freereikiattunements
Reiki Intro free schedule
http://reikicenteroflosangeles.yolasite.com/reiki-en-espa%C3%B1ol.php
They provide free Reiki trainings I.- III. stage
http://www.freereikicourse.com/
Free – healing will be send each week and can be merged for lager group of healers in case of need
http://reiki-light.co.uk/free-reiki-distance-healing/
Reiki, crystal Reiki, Fire Reiki but also free Reiki
http://www.reikiclasses.com/free-reiki/
http://freereikiattunement.com/
6/I. Reiki level
Consecration in this level is done with the connection on individuals who work with meteorites during their life and connection of own knowledge base to consecrated person. Consecrated person partialy connects own bioenergy with energy of persons who work with meteorites. How is this consecration done remains secret. You will understand when you´ll get such consecration.
6/II. Reiki level
This level of consecration is the result of activities around meterorites, pitchblende and cosmic radiation. Consecration directs to bones and bones ganglia, fat and fat ganglia. Consecration is provided to Zen, Zazen, wisdom, top memory. Here are also techniques of Brahma from fat and their genius in such direction. This is also about kabbalah techniques but also one brian techniques. So intellect and Reiki as artificial intelligence. Top level of grandmaster couldn´t be gained without the change of own programs in the brain. And futher is secrect. Sasa Pueblo practises in his inside these systems for development of bio artificial intelligence created in own neurons.
7. Reiki level
Then follows next level which requires extensive experiences with monstrances from the person who gives consecration. So energies from monstrances are inserted in Reiki discs. Such consecration follows mystical resurrection of Jesus Christ by padre Pio. But how this works and how this is done stays our small secret. You will understand when you receive consecration and when you will have experiences of the person who gives consecration or better experiences of healer.
8/I. Reiki level
In this level, Reiki discs will contain energies of fetus and female eggs which almost die or energies of fetus after abortion. These aren´t energies from women and children. This is not working. Energy flows into 4 discs in aura and creates something like light streams of energies. How this whole working will stay as secret. Incorrect practising can be harmfull for health. Sasa Pueblo knows mainly women who does Reiki but they are not practising such Reiki correctly.
8/II. Reiki level
Reiki consecration 8/I. has one unconventional continuation and it is Reiki 8/II. This is such beautiful Reiki which goes even beyond life. And it's more about what can be when we will not be here. Here we have realised great religious idea: Jesus as the concentration of all angelic realms and beings. And such idea is practically implemented in Reiki. Here Reiki consecrates into thymus gland over the whole body. Also affects ganglia and builds itself as a concentration of all angelic beings. This is mystical Reiki where you try to resurrect the example of Padre Pio and through him historical person from Israel. Practises of this kind of Reiki are essentially publicly known.
9. Reiki level
This level and this consecration is about 4 discs in aura and applicability any other meditation system, religious system, alternatively shamanic sytem or other specific system of different Reiki persons within such system. In this case Reiki consecration has to be done into bones and such consecration is uniquely stored here in bone brain. Sasa Pueblo stores each system which comes across the Internet in his bone brain.
10. Reiki level
In this step, the initiation relies on the human brain with paralysis or brain damage from birth and extreme activities of the spinal cord. This includes Shamballa Reiki or a state of near poltergeist – haunted houses and states. How is this initiation practised remains for you in the state of secrecy. You might understand in time. These are already, of course, extreme Reiki initiations.
11. Reiki level
So this level can manage only Sasa Pueblo personally. This is the activation energy object in the middle of the chest. This object can be seen only by prophet and sensible person. This is the basis of Reiki practiced in ancient China and directly vanished in Tiantai school. In the middle of the chest will be transferred rotating disc with the amount of unique energy. And how this is all done? So it will be a big secret. Sasa Pueblo thus becomes a living Reiki Grand Master. This allows him to be part of defunct Chinese Tiantai school and he brings it into a living form of Reiki. Do not confuse with Japanese schools under a similar name, the school Tendai.
12. Reiki level
And we are on the top of Reiki school and here Reiki absorbs SRT system in itself and evolutionary medicine. This medicine defines 200 – 300 prehistoric structures in the human body. Those prehistoric structures are formed during embryonic development in the mother. Consecration goes through the skin where everybody has spare placenta. It´s necessary to activate this placenta and also inactive prehistoric structures inside consecrated person. And here Reiki consecration will be long series of more then one consecrations because it´s impossible activate prehistoric structures by one initiation.
13. Reiki level special
This level is about unique techniques how to activate the state of emergency in treated person. It is about activation parotid gland in treated person at distance. Some people form magnetism in their fat cells and use them to act on treated person. Then here is the possibility how to influence treated person through people who form in fat cells something as metal beads and other objects. Next possibility are persons who have inside of themselves overgrown twin. Then other option is opening the flow of special healing substances in the fat of pelvic area which is called prana. Particularly the special distance treatment through the pupil within iris eye diagnosis.
HELLO
Sasa Pueblo Pleasant and instructive reading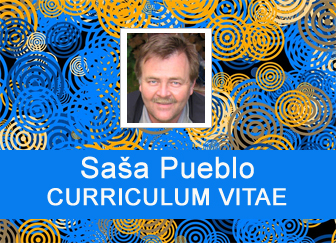 Read Curriculum VitaeClose Curriculum Vitae
I was born on 4th of January 1960 in Slovakia, Europe.
When I was 5 years old I fought for life several months and my grandmother who was herbalist and healer was helping me. She saved my life.
I did not attend the school very often because I still had problems with lungs.
But protestant pastor from neighborhood gave me basic education.
My grandmother loved going to the church but I better loved Indian figures.
My grandmother liked company of weirdos and homeless people. She loved to take care about them and I was there.
I have always loved to grow plants, picked up herbs and I was environmental activist.
I have decided to become polymath, educated in all natural, technical and spiritual sciences.  I still continue in this trend of highly and integrally educated personality up to this day.
Especially, I dedicate to all disciplines within medicine and I have different approaches to study them. I have decided to begin the path as healer and therapist.
I used to pick up herbs, mushrooms, leafs and yields from trees and bushes. I made homeopathic, herbal teas, different types of homemade herbal creams and tinctures.
Nowadays I practice distance healing without the presence of treated person.
I also practice special exercises called basic physiological exercises and it is training of special movements for persons in higher age. I manage the group of people in age over 60 who regularly train such exercises.
I care about issue of sleeping, hypnosis, autohypnosis and suggestions applied in distance Reiki without presence of the patient.
I have practiced active distance healing since 2013 and in this area I take care about 100-120 people who are under my long lasting care.
I also actively practice SRT system and I help related community of enthusiasts for SRT therapies.
I have created system of clairvoyance performances in the area of health, psychology and relationships. I execute such performances by clairvoyance techniques on distance without the person who is treated.  I use clairvoyance techniques to perform medical, psychological and psychiatric tests. I have connected such practices with medical laboratory values.
I am also interested in mysticism applied into religious systems. I have strong interest in everything what could be built during the life and what could be transformed into the world of dead memories. This is the issue of the Holy Sepulchre.
My specialty is interest in building artificial intelligence in robotics. I focus on building bio intelligence in human body and especially in the cerebellum, linked to the Kabbalah.
I am ready to exchange experience and knowledge. I communicate in English language.
Contact: sasapueblo@meditacia.sk. I will answer quickly and especially to every email.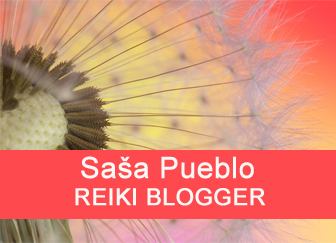 Read Reiki BloggerClose Reiki Blogger
Sasa Pueblo
REIKI BLOGGER
I have been working in spiritual sphere over 20 years. I have realized research in different areas of spirituality over whole world. I am objectively engaged to spirituality and esoterism. I went through spiritual world by clairvoyance techniques and many videos helped me to go through different forms of spiritual meditations from prehistory to nowadays forms of meditation. In year 2014 I decided to implement practical esoterism and spirituality on Reiki platform. I had feeling and logically emerged that this will be good thing. I wanted to publish my articles in English language. Circumstances helped me that one girl with excellent English knowledge came meditate to me. My desire was to get my articles translated by the person who actively meditate. And it has become small miracle and we have translation which is a great thing.
We gradually test individual Reiki systems and we make a record of them.
The record is processed, translated to English and posted on this site. I hope that our articles will bring you joy and new insights.
Here are my main home pages in Slovak language:
https://meditacia.sk/
https://forumzdravie.sk/onlinesasapueblo/
I encourage you to use: https://translate.google.com/m/translate for translation.
Following are English translations of my articles:
https://apoort.net/meditation/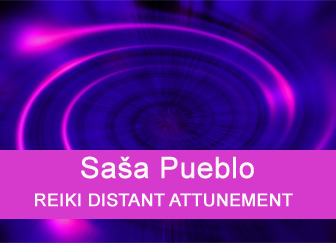 Read Reiki Distant AttunementClose Reiki Distant Attunement
Sasa Pueblo
REIKI DISTANT ATTUNEMENT
I also do Reiki attunement and consecration to all degrees. I do attunement to different kinds of Reiki. I specialize mainly in distant Reiki attunements and their gradation. Distant consecrations require testing and verification. By testing I examine the quality of distant attunement. It is good to repeat distant attunements several times and so achieve stronger Reiki stabilization.
I do Reiki attunement which is free of charge. It is good to already have basic Reiki consecration classically in the presence of consecrated person and the initiator. Then my specialized Reiki attunement is more effective.
As I have studied and trained the history of Reiki, I know how to return to original attunement of disappeared Tiandai Reiki school.
I can test you whether your Reiki attunement has been done correctly and I am able suitably adjust it for you.
You can email me via: sasapueblo@meditacia.sk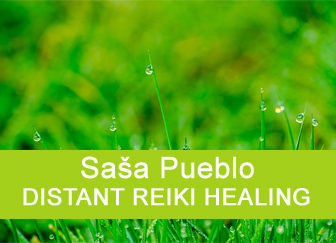 Read Distant Reiki HealingClose Distant Reiki Healing
Sasa Pueblo
DISTANT REIKI HEALING
To make full use of Reiki in my practice, I have adopted Reiki treatment to my healing services.
In my case, I go through distant Reiki treatment without the presence of the person being treated.
It is a demanding and little refined technique. And so there is a lot of space for testing and linking classic healing systems and Reiki distant healing. I have already reached respectable level. I provide free of charge distant treatment and feel free to contact me via email: sasapueblo@meditacia.sk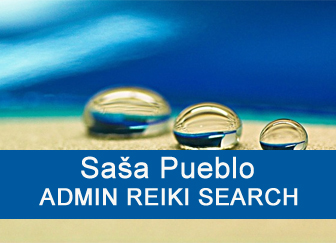 Read Admin Reiki SearchClose Admin Reiki Search
Sasa Pueblo
ADMIN REIKI SEARCH
My nickname is SASA PUEBLO and I am administrator of Reiki Systems of the World. I'm trying to have good overview of Reiki around the world. First of all, I collect Reiki search engines then individual types of Reiki over the world. It is good to have knowledge what happens in the world of Reiki who is involved and what people do in this area.
Web Pages with Reiki contents are collected for the reason that we examine enthusiasts who do Reiki, why they do Reiki and how they do Reiki. At the same time, we also examine unique characteristics of representatives of each Reiki school by clairvoyance techniques. This is research to improve Reiki overall.
We will not be personal, but we will publish clairvoyance research for the benefit of all Reiki enthusiasts.
We also will create collections of Reiki music videos, symbols and forms of healing for you. You have a lot to look forward to. We are here to support Reiki.
If you want to support us, to give us any idea and some web address, then please contact me on my mail.